All Announcements should be sent to the Director:

rlanigan@mac.com
ANNOUNCEMENTS and EVENT NEWS
---
All Announcements should be sent to the Director:

rlanigan@mac.com
ANNOUNCEMENTS and EVENT NEWS
---
Collegium Scholasticum Laureatum
---
The designation "Scholasticum Laureatum" is awarded by Collegium election to those Fellows who have made a Career Contribution to the research, teaching, and publication program of the Discipline of Communicology.
The ICI Collegium Magisterium Announces the Election of Laureate Fellows:
2017
1. Professor CALVIN SCHRAG (USA)
2018
2. Professor ALGIS MICKUNAS (USA)
3. Professor RONALD C. ARNETTE (USA)
4. Professor PAT ARNESON (USA)
5. Professor RICHARD L. LANIGAN (USA)
2019
6. Professor ZDSISŁAW WASIK (POLAND)
7. Professor GÖRAN SONESSON (SWEDEN)
2020 (Announcement Pending)
8. Professor
9. Professor
10. Professor
The ICI Collegium of Fellows announces the Election of Fellows:
---
2016
► Professor ANTHONY WILDEN (CANADA)
► Professor KLAUS KRIPPENDORFF (USA)
2018
► Professor PAWEL KOJS (POLAND)
---
New Resaerch Initiative: POZNAŃ, POLAND
---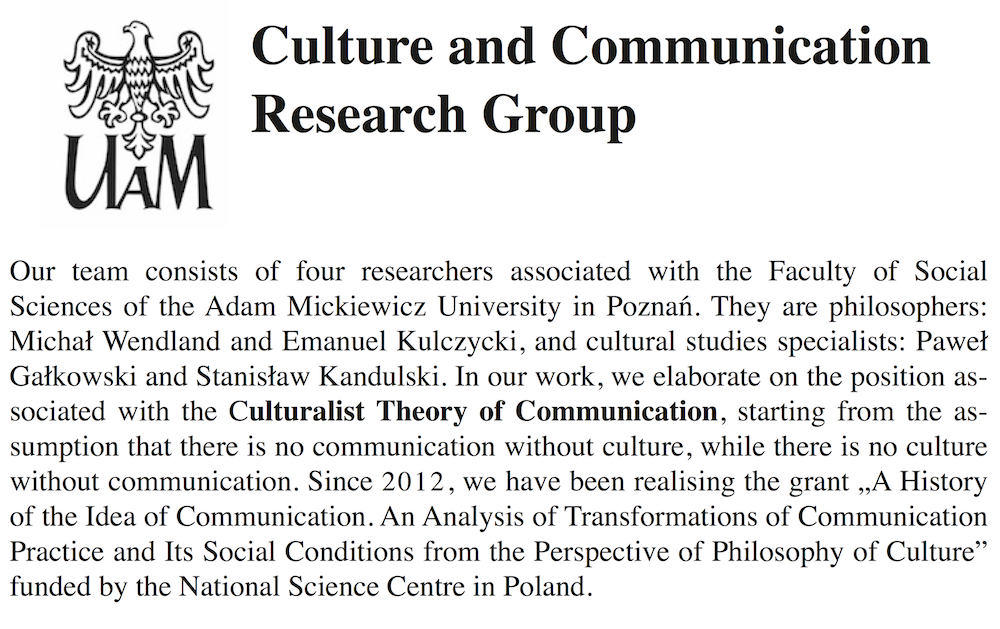 ---
---
New Research Initiative: I C I INTERNATIONAL SYMPOSIUM VENUES
I C I COLLOQUIUM
---
The ICI Colloquium is a single event conference organized to explicate a designated topic of research and teaching interest related to Communicology as a human science.
The Colloquium is usually a one or two day roundtable meeting hosted by an ICI Fellow(s) at a university or research center. Colloquia are organized on an occasional basis with no fixed schedule per year. Because attendance is typically limited to ten (10) or fewer presentations, participation is strictly by invitation only from the colloquium organizer.
Colloquia are intended to stimulate a research initiative which will, in time, result in the presentation of a topical panel of papers at an academic conference, in a special issue of a journal, or as an edited book collection of essays. The sequence of Colloquia is designated by number, year, theme, department, institution, and country, e.g., "First ICI Colloquium, 2014, The Cultural Matrix of Communicology, Department of Communication Studies, Eastern Washington University (USA)".
Suggestions for colloquia are proposed to, and approved by, the ICI Director on behalf of the Collegium of Fellows.
---
New USA University Department of COMMUNICOLOGY
---

Fall Semester 2011, the
Department of Communicology at the UNIVERSITY OF HAWAII
(Manoa campus in Honolulu, USA) became the first degree granting (BA, MA) university in the USA to reflect the contemporary Communicology name designation of the discipline. manoa.hawaii.edu/communicology Caveat: The graduate research approach in the department is strictly limited to statistical methodology (quantitative) and does not embrace the traditional logic based methods (qualitative) of phenomenology and semiotics. Undergraduate approach is the traditional General Speech blend of arts and sciences, theoretical and applied skills.
---
IN MEMORIAM † ICI FELLOWS †
---
2010
† JEFF BERNARD (12 September 1943 — 24 February 2010)
► Named Fellow in 2005
---
In Memoriam
ICI Bureau Regional – Continental Coordinator: Europe
Director, Institute for Socio-Semiotic Studies (ISSS), Vienna (Wien)
Secretary General, Austrian Association for Semiotics
Administrative Vice President (Secretary General), International Association for Semiotic Studies
President, Austrian Association for Semiotics (OeGS-AAS)
Editor, European Journal of Semiotic Studies
Co-Editor, Semiotische Berichte
---
2016
† UMBERTO ECO (5 January 1932 — 19 February 2016)
► Named Fellow in 2007
---
In Memoriam
Professor of Semiotics, Milan Polytechnic (1966)
Associate Professor of Visual Communication, University of Firenze (1966-1969)
Professor of Semiotics, University of Bologna (1975-2007)
Director, First World Congress of IASS / AIS, "A Semiotic Landscape", Milan, Italy (2-6 June 1974)
Vice-President of IASS / AIS (1979-1983); Now Honorary President
Director, Institute for Communication, University of Bologna (1983-1988)
Professor Étranger, Collège de France, Paris (1992-1993) [European Union Chair]
Professor Étranger, École Normale Supérieure, Paris (1996)
---
2016
† CLARISSE ZIMRA (4 January 1944 — 7 September 2016)
► Named Fellow in 2005
---
In Memoriam
Profesor of English, French, and Comparative Literature, Southern Illinois University (USA)
Specialist in African and Algerian Colonial Literature
Taft Fellow in the Humanities, University of Cincinnati (USA)
---
2017
† LESTER E. EMBREE (9 January 1938 — 19 January 2017)
► Named Fellow in 2008
---
In Memoriam
Teaching Assistant to Aron Gurwitsch at New School (1968-1969)
Assistant Professor, Philosophy, Northern Illinois University (1969-1974)
Associate Professor, Philosophy, Duquesne University (1974-1979)
Professor, Philosophy, Duquesne University (1979-1990)
William F. Dietrich Eminent Scholar, Philosophy, Florida Atlantic University (1990-2013)
---
2020
† ROLAND POSNER (30 June 1942 — 26 May 2020)
► Named Fellow in 2005
---
In Memoriam
Jeff Bernard (Left) in debate with Roland Posner (Right)
Professor of Linguistics and Semiotics, Technical University of Berlin (DE)
Director, Institute for Linguistics and Semiotics
Founding Chairperson, German Society for Semiotics (1975)
President, International Association for Semiotic Studies (1994-2008)
---